What is Aroma.Ya.Sora?
Aroma.Ya.Sora is a private wholistic healing and retreat clinic.

We are located on the beautiful island of Ishigaki, an island a part of the Yaeyama island group in Okinawa prefecture, Japan.

Ishigaki island is surrounded by the natural beauty of white sand beaches,pristine blue ocean, and beautiful coral.

People who come to the Yaeyama region tend to stay for a long time.This is because the Yaeyama region has a strong natural power. so people are able to return to their true natural state.

Our signature treatment utilites the harmonic relationship between

"Wholistic Aromatherapy", "Remedial Massage", "Reiki Healing" and "Wholistic Counseling".

*The founder was inclined to add "W" to Holistic bringing full attention to the "whole" in light of today's trend of the rigid format of branding "holistic". "Wholistic" by nature itself is inherently dynamic,ever-changing and all-encompassing to include metaconditions and to implement wholistic therapies must address updated situation.
Therapist Akiko's Profile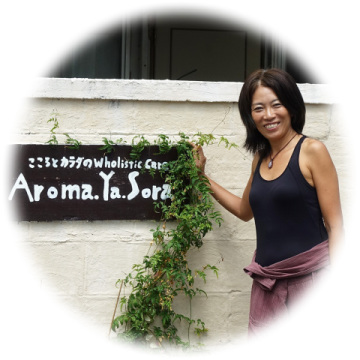 Therapist Akiko has 17years of experience in total 13years in Japan and 4years in Australia.
Through the years she has gain extensive knowledge of the human body. Akiko acquired a Diploma of Remedial Massage in Australia.
(including human anatomy, pathology and nutrition).
Her total body adjusting method mainly includes disciplines of Remedial massage treatment,
Wholistic Aromatherapy and Reiki Healing applied masterfully with the proper care and the appropriate treatment for the client's body and mind.
Treatment begins with wholistic counseling, experienced posture analysis and selecting the appropriate essential oil combination to heal the mind,body and spirit.
All techniques incorporate the appropriate use of Reiki therapy(healing subtle energies)
to enhance every aspect of the treatment.
Akiko is known among peers, clients and students for her intensely focused therapies and light-hearted, quirky personality.
Those in related disciplines have great respect for her work as therapist noting that
Akiko is a pioneer striving to add more value and benefits toward treatment where none existed previously.

- Diploma of Remedial Massage(TAFE NSW in Australia)
- Accredited Member of Japan Aroma Artist Association
- Accredited Member of JADP Mental Counselor
- Advanced Consultant Facilitator of Tree in One Concepts
- Cerfified Reiki Master of Reiki Radiance System in Japan
- Certified OSHO Meditation Facilitator of OSHO International Foundation
- Certified Holistic health Instructor of Japan Holistic Medical Society


Open Hours: Monday-Sunday
10:00am~7:00pm(Reservation Only)
Mob;+81-80-4925-0513
Contact & Reservation Form
https://aromayasora.com/contact/